What is the Farm Bill?
---
The "Farm Bill," as the omnibus package of federal farm and food legislation has come to be known, represents billions of dollars in government expenditures that set the farm, food, and rural policy goals and priorities for the United States. Congress passed the most recent version of the this bill, the Food, Conservation, and Energy Act (H.R. 2419), on May 22, 2008, authorizing $289 billion over the next five years.
Despite its nickname, the "farm" bill is really a "food" and "conservation" bill too.  In the simplest terms, the farm bill has a tremendous impact on farming livelihoods, how food is grown, and what kinds of foods are grown.  This in turn affects the environment, local economies, and public health.  These are some pretty good reasons to become involved in advocating for a farm bill that supports health and sustainability!
Farm Bill Basics
1. What does the farm bill cover?
The following are the titles (or chapters) of the 2008 Farm Bill:
The order and total number of farm bill titles vary from bill to bill. For more information, read our Grassroots Guide to the 2008 Farm Bill (pdf).
2. How much does the farm bill cost?
The most recent farm bill – the Food, Conservation, and Energy Act (H.R. 2419), passed on May 22, 2008, authorized $289 billion in spending over five years.
3. How is the funding distributed?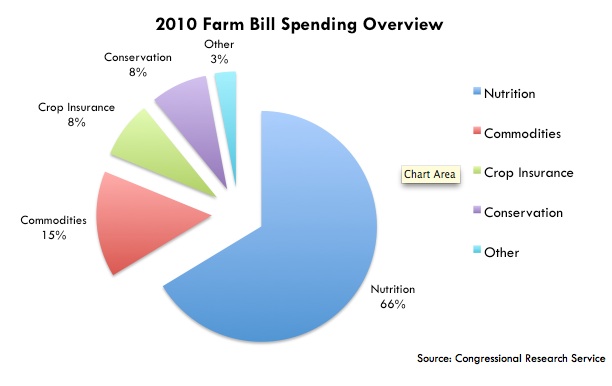 4. Who in Congress writes the farm bill?
Members of Congress who sit on the Senate and House Committees on Agriculture, Nutrition, and Forestry hold the primary responsibility of drafting farm bills.
United States Senate Committee on Agriculture, Nutrition and Forestry:
DEM:

Debbie Stabenow (MI), Chairwoman
Patrick Leahy (VT)
Tom Harkin (IA)
Kent Conrad (ND)
Max Baucus (MT)
Sherrod Brown (OH)
Amy Klobuchar (MN)
Michael Bennet (CO)
Kirsten Gillibrand (NY)
Joe Donnelly (IN)
Heidi Heitkamp (ND)
Robert Casey, Jr. (PA)

REP:

Thad Cochran (MS), Ranking Member
Mitch McConnell (KY)
Pat Roberts (KS)
Saxby Chambliss (GA)
John Boozman (AR)
John Hoeven (ND)
Mike Johanns (NE)
Charles Grassley (IA)
John Thune (SD)
House Committee on Agriculture:
REP:

Frank Lucas (OK), Chairman
Bob Goodlatte (VA), Vice Chairman
Steve King (IA)
Randy Neugebauer (TX)
Mike Rogers (AL)
K. Michael Conaway (TX)
Glenn Thompson (PA)
Bob Gibbs (OH)
Austin Scott (GA)
Scott Tipton (CO)
Eric Crawford (AR)
Martha Roby (AL)
Scott DesJarlais (TN)
Christopher Gibson (NY)
Vicky Hartzler (MO)
Reid Ribble (WI)
Kristi Noem (SD)
Dan Benishek (MI)
Jeff Denham (CA)
Stephen Fincher (TN)
Doug LaMalfa (CA)
Richard Hudson (NC)
Rodney Davis (IL)
Chris Collins (NY)
Ted Yoho (FL)

DEM:

Collin Peterson (MN), Ranking Member
Mike McIntyre (NC)
David Scott (GA)
Jim Costa (CA)
Timothy Walz (MN)
Kurt Schrader (OR)
Marcia Fudge (OH)
James McGovern (MA)
Susan DelBene (WA)
Gloria Negrete McLeod (CA)
Filemon Vela (TX)
Michelle Lujan Grisham (NM)
Ann Kuster (NH)
Richard Nolan (MN)
Pete Gallego (TX)
William Enyart (IL)
Juan Vargas (CA)
Cheri Bustos (IL)
Sean Patrick Maloney (NY)
Joe Courtney (CT)
John Garamendi (CA)
5. How does the farm bill drafting process work?
For more information on the steps of the farm bill process, find out how a bill becomes a law.