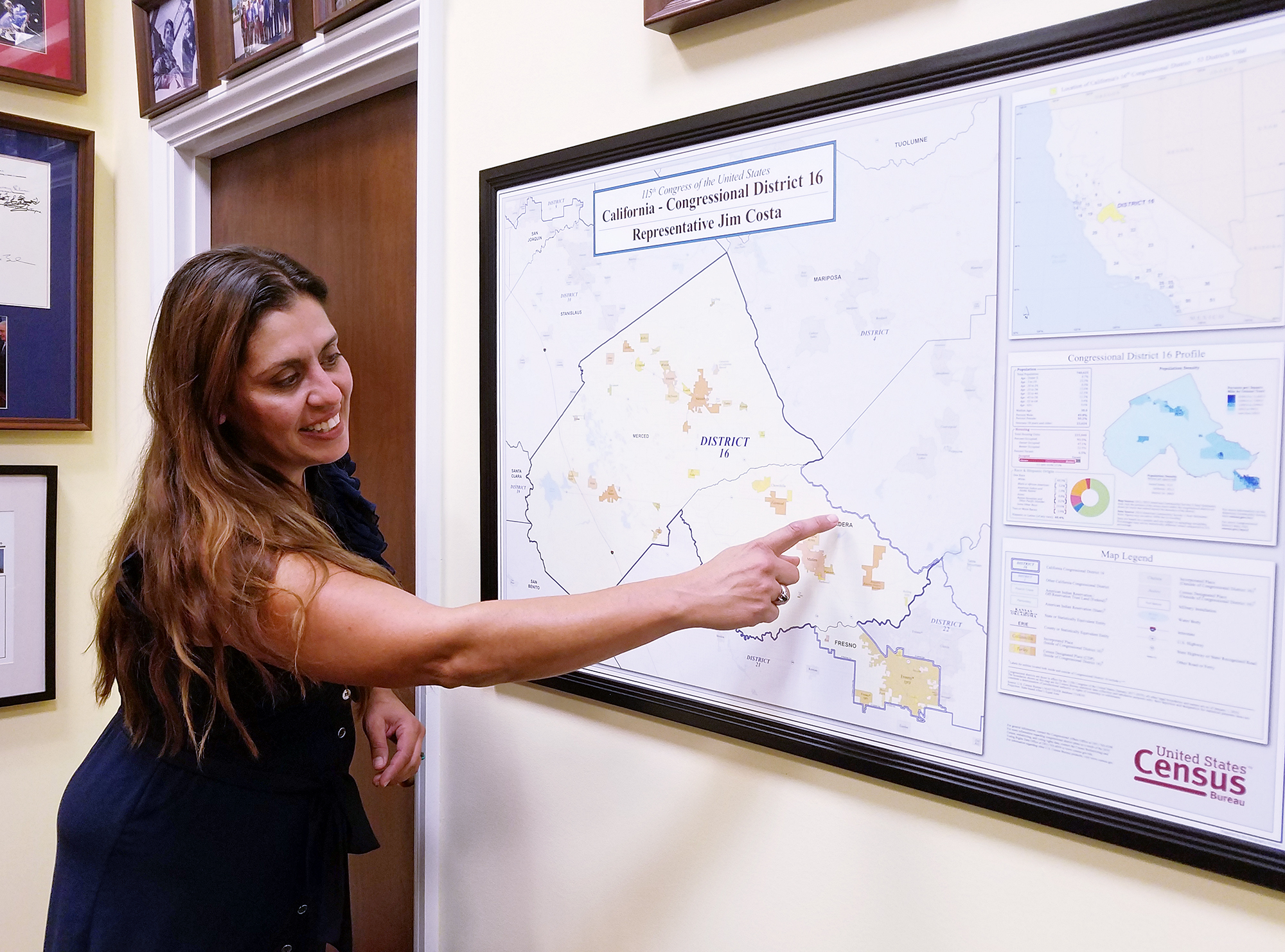 For decades, the Outreach and Assistance for Socially Disadvantaged and Veteran Farmers and Ranchers Program (also known as the "Section 2501" program) has served as the only farm bill program dedicated to addressing the specific needs of farmers of color. In the 2014 Farm Bill Congress expanded Section 2501 to include military veteran farmers; unfortunately, they also cut the program's funding in half in the same bill. Farmers and advocates had hoped that the Section 2501 program would receive a much-needed boost in funding in the 2018 Farm Bill. Instead, sadly, this vital program was thrown into limbo after the 2014 Farm Bill expired on September 30.
This means that the recently announced fiscal year (FY) 2018 grant awards are the last Section 2501 can make – unless Congress takes action. In FY 2018, over $9 million in award funds will support 53 projects that aim to connect socially disadvantaged (SDA) farmers with U.S. Department of Agriculture (USDA) resources. The ultimate aim of these projects will be to increase SDA farmers' long-term success in agriculture.
The 2014 Farm Bill expired on September 30, 2018, which resulted in a host of important food and farm programs losing their authority to operate, their funding, or both. As a "tiny but mighty" farm bill program, Section 2501 falls into the latter category – without a new farm bill, the program has neither the funding nor the authority to continue operating.
Program Background
The Section 2501 program was created in 1990 to address the historic inequities in accessing USDA services that farmers of color faced. In the 2014 Farm Bill, military veterans were also added as qualified participants in the program. The goal of Section 2501 has been to help increase these farmers' awareness of and access to USDA resources and technical/financial assistance. Both farmers of color and military veteran farmers are growing sectors of the U.S. farm economy, and have an important role to play in the future of agriculture in this country.
For more information on the Section 2501 program, check out NSAC's Grassroots Guide.
Spotlight on FY 2018 Grantees
The National Sustainable Agriculture Coalition (NSAC) congratulates all of this year's Section 2501 grant recipients. We would especially like to acknowledge the hard-working and dedicated community-based organizations that provide essential support directly to SDA farmers every day, including the following NSAC member organizations:
The Agriculture & Land-Based Training Association (ALBA),California – will use their $200,000 grant to fund their project, "A New LIFE". The project aims to build the capacity of socially disadvantaged and veteran farm workers to operate viable organic farms. ALBA will also use funds to expand their outreach and agriculture education programs to at risk youth in the Salinas Valley's most disadvantaged communities.
"ALBA is very excited to receive funding through USDA's Outreach and Assistance for Socially Disadvantaged Farmers and Ranchers and Veteran Farmers and Ranchers Program," said Executive Director Patricia Carrillo. "This funding will enable ALBA to deliver services to socially disadvantaged farmers who seek to own and operate viable organic farms. We will also expand our outreach and on-farm education to youth in the Salinas Valley, and actively recruit and educate veterans in the region for new careers in agriculture."
Legal Aid of Nebraska & the Center for Rural Affairs (CFRA), Nebraska – Legal Aid, in partnership with CFRA and other organizations, will use their $200,000 grant to provide outreach and technical assistance to socially disadvantaged and veteran farmers and ranchers to improve their ability to start and maintain successful operations.
"The Center for Rural Affairs mission is to establish strong rural communities, which includes supporting veterans returning to civilian life," said Cora Fox, Policy Associate at the Center for Rural Affairs. "Funding from the 2501 Program helps us address the unique needs of veteran farmers and ranchers. This grant provides the opportunity to conduct research on veteran involvement in USDA farm programs, as well as assess veteran producer needs and challenges. Our current farmer population is aging, and it is important that Congress permanently fund programs that invest in the next generation of producers. The 2501 Program provides much-needed support that will allow veteran producers to step into that role."
Michigan Food and Farming System (MIFFS), Michigan – will use their $200,000 grant to support socially disadvantaged farmers and farmer veterans to own and successfully operate viable farms/ranches in Michigan. MIFFS will achieve this goal and will increase farmers' access to beginning and underserved community networks by providing hands-on workshops, webinars, peer-to-peer trainings and field trips .
"MIFFS is honored to have to opportunity to support beginning and historically underserved farmers through the 2501 program," said Lauren Marquardt, Director of Development & Services. "The 2501 program is vital to our work in Michigan. 2501 provides critical support for the Michigan Family Farms Conference, the most diverse, farmer-led conference in the state, and supports our work providing peer-to-peer USDA program application assistance to farmers throughout the year. 2501 also supports the continued growth of our farmer networks for Spanish speaking farmers, farmers of color, women farmers, veterans, and other beginning and underserved farmers, which facilitate resource sharing and culturally appropriate education to build resilience for all farmers!"
Award Allocations and Distribution
Nearly 60 percent of FY 2018 grants went to projects led by community-based (CBO) and non-profit organizations, which was slightly less than last year. The average grant award was just under $200,000, with university-led projects securing slightly larger grants than those of CBO and non-profit awardees.
In terms of regional distribution, the majority of FY 2018 grants will support projects in the South. Many FY 2018 projects located in southern regions will tackle issues that specifically affect African-American farming populations, such as heirs property and other land-related issues. A quarter of grants will fund projects in the Midwest and Great Plains; these projects have targeted several different farming communities, including Hmong, refugee, Hispanic, and tribal producers. Roughly a quarter of projects will reach farmers of color in the West, including tribal and native communities, as well as immigrant and Hispanic farming populations. The fewest number of grants went to support projects in the Northeast, which primarily target urban and youth communities.
Roughly half of this year's grants will include outreach to veteran farmers as well as other underserved communities.
The Future of Section 2501
The 2014 Farm Bill officially expired on September 30, and Congress has now left town without a workable replacement in place. Congress' inaction has left the Section 2501 program without any funding or legal authority to operate in the future. This means that the program is essentially "on hold" until either a new farm bill or a temporary extension is passed – in either scenario, Congress will need to include explicit language funding the 2501 program in order for it to resume operation.
NSAC has detailed the extreme impacts that a delayed farm bill without extension could have in our recent, "What's at Stake" blog series.
Since the 2501 Program has received additional funding through the annual appropriations process, it is possible for the program to continue operating next year, albeit on a significantly reduced budget. Farm bill funding has provided roughly $10 million in grant funding each year, while appropriations has only provided $3 million in recent years. Moreover, annual appropriations are negotiated each and every year, which makes it less reliable long-term as compared to farm bill funding, which is locked in for at least 5 years.
Even if congressional appropriators include discretionary funding for 2501 in their final appropriations package for FY 2019 (which has yet to be finalized), competition for a much smaller amount of available funding will most certainly result in fewer organizations being funded next year. Ultimately, fewer resources will be available to support farmers of color across the country unless Congress increases support for the program in our next farm bill.
NSAC – which has many members who are current or former 2501 grantees – will continue to push Congress to swiftly pass a new farm bill that reflects the Senate bill's strong support for farmers of color. We are also advocating for the final bill to include the establishment of a new program, the Farming Opportunities Training and Outreach (FOTO) program. FOTO merges Section 2501 with the Beginning Farmer and Rancher Development Program in an attempt to streamline existing efforts to support socially disadvantaged farmers and permanently protecting these important resources for generations to come.
For ways that you can get involved and support farmers of color and military veterans in our next farm bill, check out NSAC's Take Action! page.