NSAC's Blog
---
There is No Future for Sustainable Food and Farming Without Racial Justice
June 8, 2020
---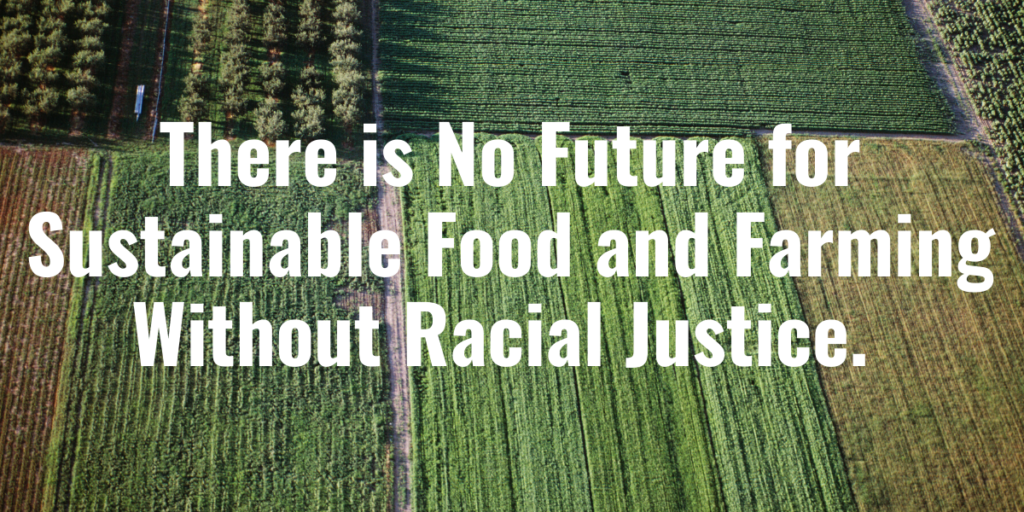 Last month, the world witnessed yet another killing of a Black person in America at the hands of police. The National Sustainable Agriculture Coalition grieves the murder of George Floyd and stands with those calling for justice for Mr. Floyd, for Ahmaud Arbery, for Tony McDade, for David McAtee, for Breonna Taylor, and for every Black life lost to racism in this country.
This tragedy shows us once again: racism persists and continues to be deadly. It is more than individual actions – it is structural, and built into our institutions and systems. Farm and food policy is not exempt: farmlands stolen from Native people, white wealth built from hundreds of years of slavery in agricultural fields, forced displacement of farmers of color from their land time and again, ongoing exploitation of farmworkers and food workers, and the deliberate denial of resources and support to farmers of color from USDA. The inequities that persist in our farm and food system today are the direct result of generations of injustice and exploitation. It is long past time for dismantling the structural racism at the root of our institutions and systems, including within food and agriculture.
We speak up in solidarity with the nationwide calls and demonstrations for justice and accountability, because we know there is no future for sustainable food and farming without racial justice. We unequivocally affirm: Black Lives Matter.
As a historically white-led organization, we acknowledge that we have not been immune from furthering these inequities. We offer our gratitude to the Black, Indigenous, and people of color within our coalition and staff for their leadership, and we step into this moment with humility for all the work and learning still before us. We know that our coalition will be stronger for becoming more deeply grounded in principles of equity and justice, and we invite our broader community to help hold us accountable as we share our work and our progress moving forward.
We commit to learning and skill-building about race, systemic racism, and privilege with our staff and coalition members.
We commit to advocating for farm and food policies that advance racial equity – and dismantling existing policies that create and perpetuate inequity.
We commit to the conversations and shifts needed around our own culture, norms, and values to support our BIPOC staff and members and transform our community into an anti-racist one.
We commit to listening to the experiences of, building allyship with, supporting the needs of, and following leadership from BIPOC farmers and ranchers and BIPOC-led organizations in our membership and the larger sustainable agriculture community.
Today we redouble our commitment to the fight against racial injustice and stand with those calling for long-overdue change. Only when there is justice for the most marginalized can we truly achieve the sustainable future we are working toward every day.
In solidarity,
The National Sustainable Agriculture Coalition
---
Categories: Carousel, General Interest
---